Nigeria Q3 2020 GDP: Non-oil Economy Adapts Rapidly
By Coronation
Recently the National Bureau of Statistics (NBS) released GDP data for Q3 2020, showing a decline of -3.62% y/y with Non-oil GDP falling by just -2.51% y/y. The Non-oil GDP growth drivers were the Telecoms sector (+17.36% y/y) and Agriculture (+1.39% y/y).
 
These data are considerably better than expected, especially the Non-oil GDP data and show several sectors – notably Manufacturing – adapting to difficult conditions in consumer and FX markets. After 1.87% y/y growth in Q1 and a -6.10% y/y contraction in Q2, it now looks like the IMF's June forecast a full-year recession of -4.3% y/y is on the pessimistic side.
 


Positive implications for equities

. The stock market is undergoing a bull run, which is consistent with seeing this as a V-shaped recession with a clear exit early next year. Although this is plausible if Brent crude prices recover to US$50.00/bbl (currently US$48.21/bbl), it is less plausible if oil prices falter. The telecoms sector continues to grow with data partly replacing lost voice revenues.
 


Negative for inflatio

n. The slowdown in Trade is associated with a steep fall in FX transaction volumes and a fall in the Naira in the parallel market, bringing increases in input costs. Agricultural production may not be growing as fast as population growth. October's 14.23% y/y inflation (September: 13.71% y/y) could rise further.
 


Neutral-to-negative implications for interest rates

. The Monetary Policy Council of the Central Bank of Nigeria retained its headline rate at 11.50% last Tuesday, a clear signal that it is happy with low market interest rates. Going into Q1 2021 fixed income liquidity may not be as high as during 2020, with the possibility that rates may begin to move up gently during the year.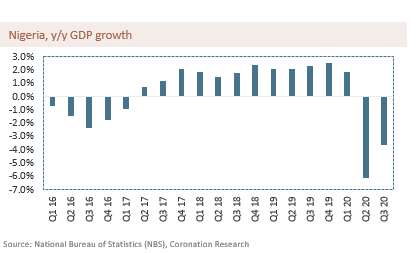 Non-oil economy adapts quickly to fall in oil prices
The trend in the non-oil economy has improved remarkably (see chart) with the rate of decline sharply down over Q2. Its development in Q3 improved to -2.51% y/y after a contraction of -6.05% y/y in Q2 2020. Non-oil GDP contributed 91.27% of Nigeria's GDP in Q3 (91.07% in Q2). The improvement in trend for Non-oil GDP comes from a combination of two large sectors (Agriculture and Telecoms) growing while the rate of decline in three other large sectors (Trade, Manufacturing and Real Estate) eased off. Telecoms growth was strong, though down from 18.10% y/y in Q2 2020 to 17.36% y/y in Q3. The large Agricultural sector grew, though here the rate of growth slowed from 1.58% y/y in Q2 2020 to 1.39% y/y in Q3 2020. These sectors together account for 41.97% of GDP (see GDP breakdown on page 3 and the pie charts on page 5).
The trend in the large Trade sector was negative but slowed from -16.59% y/y in Q2 2020 to -12.12% in Q3. The negative trend also slowed in the Manufacturing sector where the decline improved from -8.78% y/y in Q2 2020 to -1.51% y/y in Q3. The same was true of the Real Estate sector where the decline improved from –21.99% y/y in Q2 to –13.40% in Q3. Together these three sectors account for 28.39% of the economy.
Several factors influence the positive trends in the Trade and Manufacturing sectors. First, the lockdowns and interstate travel restrictions of the Covid-19 crisis period were largely lifted by Q3. Backlogs of international trade and supply disruptions were largely overcome. Second, it is likely that in cases where traders and manufacturers were required to use the parallel exchange rate as opposed to the NAFEX rates (also known as the I&E Window) they adapted rapidly. For the most part, the parallel exchange rate was within 20% of the NAFEX rate. Third, bank credit has been expanding rapidly this year, helped by declining interest rates, and this has made a positive contribution to leveraged businesses. Nevertheless, the consumer remains weak, in our view, which tempers the outlook.
Breakdown among the major segments
The top six sectors accounted for 79.09% of the Nigerian economy in Q3 2020. In order of size they were Agriculture, Trade, Telecoms, Manufacturing, Oil & Gas, and Real Estate. In Q3 2020 Agriculture (30.77% of GDP) grew by 1.39% y/y. Trade (13.88% of GDP) contracted by -12.12% y/y. Telecoms (11.20% of GDP) grew by 17.36% y/y. Manufacturing (8.93% of GDP) contracted by -1.51% y/y. Oil & Gas (8.73% of GDP) contracted by -13.89% y/y. And Real Estate (5.58% of GDP) fell by -13.40% y/y.
Therefore, of the six largest sectors, two grew and four contracted. Agriculture grew 19bps slower than the previous quarter, but 89bps slower than the corresponding quarter of 2019.
Although the Agricultural sector is resilient and has not gone into recession, the slow-down in the growth rate is a concern because Nigeria's population growth, at approximately 2.50% per annum, is faster than the growth of the sector that provides food. Food inflation in October 2020 registered 17.38% y/y (compared with headline inflation at 14.23% y/y). The good news is that the sector may show further improvement in Q4 due to the relaxation of Covid-19 lockdowns and of restrictions on interstate travel.
The Trade sector has been in recession since Q2 2019 but improved to a contraction of -12.12% y/y in Q3 2020 from -16.59% y/y in Q2 2020. The sector depends on transportation and, to some degree, access to foreign exchange in order to function well. A combination of border closures, interstate lockdowns, low liquidity in the NAFEX foreign exchange market and delays in goods clearing at Nigerian ports led to the declines, in our view. But the relaxation of Covid-19 lockdowns, and of restrictions on interstate travel, could see its trend continue to improve in Q4.
The Manufacturing sector is almost back to normal, with Q3 showing a year-on-year decline of just -1.51%. The sector has clearly adapted rapidly and is a beneficiary of low-interest rates and the Central Bank of Nigeria's encouragement of banks to lend to customers (by imposing the 65% mandatory loan-to-deposit ratio).
Low oil prices and low production take their toll
The oil and gas sector (8.73% of GDP), recorded negative growth rate of -13.89% y/y in Q3, more than double the contraction of -6.63% recorded in Q2. This was to be expected. Although oil prices were very low in Q2, oil is typically sold between three and six months forward, with the result that the Nigerian oil industry was still benefitting from fairly high oil prices realized in Q4 2019 and early Q1 2020. The full impact of low oil prices was only felt in Q3.
Nigeria was required by the Organization of the Petroleum Exporting Countries (OPEC) to implement its share of production cuts in the middle of the year. So the Oil & Gas sector suffered the double effect of low prices and production levels almost 20% lower than at the beginning of the year.
The Oil & Gas sector is an inherently volatile sector, and its contribution can make a significant difference to headline GDP data. Since it is a combination of a commodity (oil) and a mainly contract (gas) business, it is largely but not totally a function of oil production levels and prices. Though a fairly small part of GDP it accounts for roughly 90% of exports and some 60% of government revenues, thus attracting attention well beyond the scale of its direct GDP contribution.
Download Report